ScanWritr mobile app saw the light of day for the first time on the 1st of January 2014, when it was made available on Android. After its entrance to the Windows and BlackBerry platforms that followed soon after, it is now time to declare the official release for one of two remaining mobile operating systems: iOS.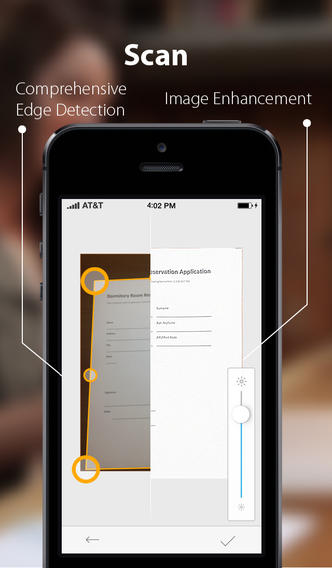 What to expect?
Apple iOS iPhone and iPad users will enjoy all the features ScanWritr offers on the other platforms. That includes automatic edge detection, conversion to PDF, form filling, annotation, cloud connectivity, printing, faxing etc. Among others, ScanWritr for iOS also knows how to import many commonly used formats.
As you might have guessed, ScanWritr does not try to be just a scanner app, but rather a complete all-in-one paperless document handler. Its many features will be appreciated by any modern busy person, who deals with paper forms and other documents.
ScanWritr's iOS pricing policy
The free version of ScanWritr features ads, watermarks and a 5 page per export limit, but otherwise offers full functionality. Users may upgrade it with one of two different in-app purchases. The first one is Connectivity Pack S, which removes ads as well as 5 page per export limit and watermarks on e-mail exports respectively. It's available for $1.99. The second in-app purchase option is Connectivity Pack L, which gives users the full premium experience without ads or limitations of any kind, for just $3.99.
ScanWritr's Faxing service, which is able to send faxes to nearly any country in the world, can be used by purchasing fax tokens. Prices range from $0.99  for one to $89.99 for one hundred fax tokens.
Updates already in progress
This is only the first version of ScanWritr on iOS, which means it will go only uphill from here. We are already working on further improvements of ScanWritr's significant features, which will make our app even better at serving your needs.
You can make it easier for us by sending us suggestions, wishes etc. on info@vanaia.com. We sincerely appreciate any constructive feedback.
Now go and try out ScanWritr for iOS. There is a big chance you could soon say: "I used it before it was cool."