Many people say that sending fax using efax services is simple. They say that it is much easier than using a fax machine. But is it really? Yes, it is. Let us show you how you can easily send fax with your documents stored in Box with an efax solution called WiseFax.
First, add WiseFax application to your Box drive by following these three simple steps:
Open Box's app store link: https://app.box.com/apps.
Search for WiseFax in search applications.
Select WiseFax app, click the "Add" button and confirm installation.
Once you have added WiseFax to your Box account simply right click on the document that you wish to fax, then click the "Integrations" and "Send Fax with WiseFax" options, as shown in the picture below. Box will automatically upload your document to WiseFax.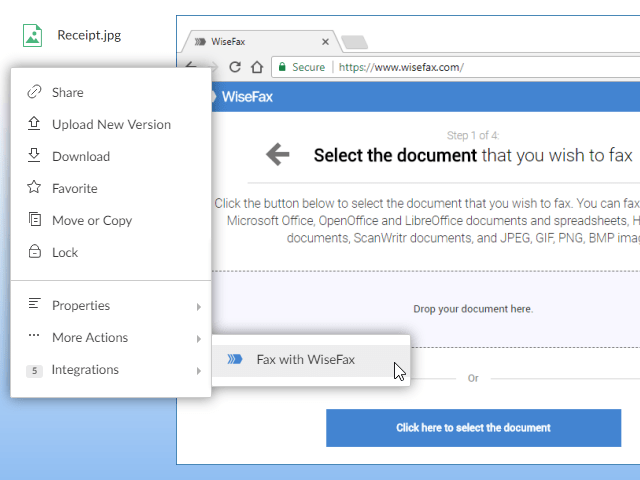 WiseFax supports many document formats such as PDF, Microsoft Office, OpenOffice, LibreOffice, Hancom Hangul, ScanWritr documents and images like JPEG, GIF, PNG and BMP.
If you need to fax a photo of your document then WiseFax automatically detects paper on your photo, removes background and prepares document for optimal faxing. The use of advanced algorithms with powerful edge detection and cropping and enhancing methods makes this possible. They remove unwanted background, such as the table, sharpen the image and remove possible shadows.
Scanned or uploaded documents look the same on your screen as they will come out from the fax machine. So you will be able to check the quality of fax before you send it.
Once you are happy with the result simply select the pages that you wish to send.  Click the Continue button to move on.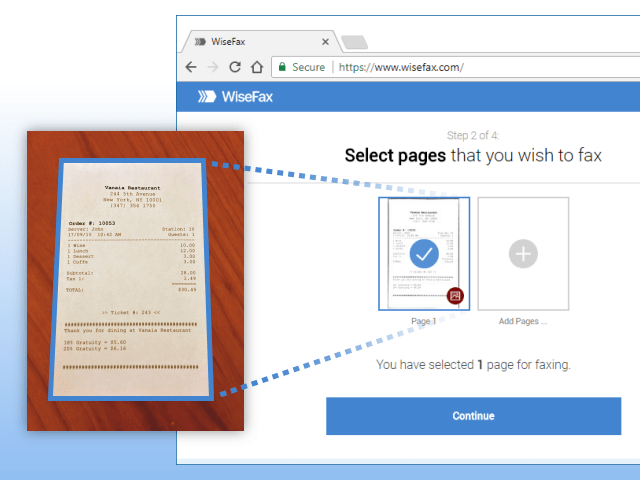 In the next step, you have to select the recipient's country and enter fax number. WiseFax checks that entered number is correct. If everything is OK you can proceed with logging into WiseFax.  You can use your existing Google, Microsoft Live or Facebook account or creating a new one.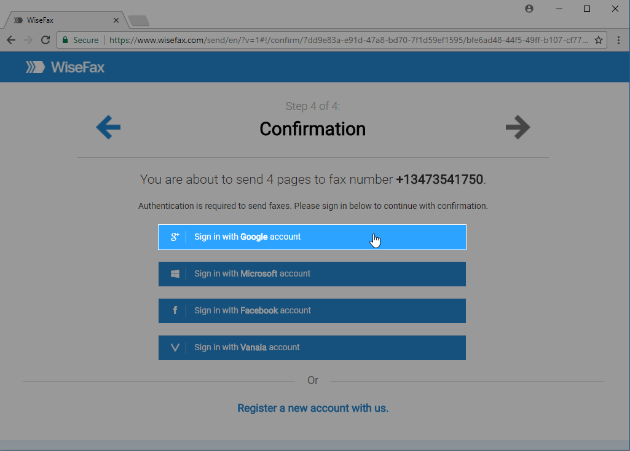 WiseFax calculates the number of required fax tokens based fax destination and number of pages you wish to send. If you do not have enough fax tokens in your account you can purchase them in this step. To do so you may use your credit or debit card or PayPal. Simply follow the instructions on the screen.
When you are done, just click the "Send" button, and WiseFax will start faxing your document. It will notify you by email that document is processing. When successfully delivered you will receive notification with full copy of document to your mail.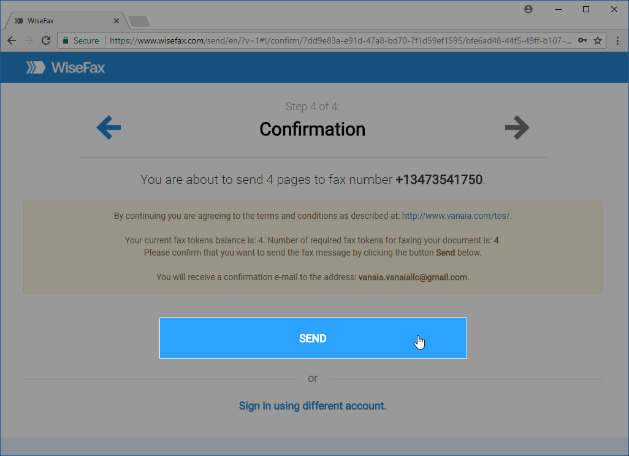 Send fax with WiseFax as simple as that. Try it and you will like it.