Faxing is not going anywhere any time soon. The combination of legal validity of faxed documents, security and the clutter-free nature of fax communication have proven to be sufficient reasons not to retire this mid-20th century technology. In fact, certain institutions actually embrace it as a preferred means of communication. This however does not mean you should start thinking about buying a fax machine. You already have most of what it takes – a mobile device.
Mobile faxing with ScanWritr
Mobile faxing with ScanWritr is incredibly easy, comprehensive and… well, mobile. As long as you have a network connection on your device, you are able to fax pretty much anything you want. Not to mention the app gives you a lot of options which you won't find on any real fax machine.
Do you have a physical or a digital document to be faxed? It actually doesn't even matter. Would you like to combine one digital page, say in .docx format, with a physical document? You can do that too. Do you need to fill out a form, sign it and then fax it along with your 10-page resume? You got it.
There is little that ScanWritr can't do, besides receiving fax messages (and even this might change soon). We would even go as far as claiming that it might be the best ad hoc prepaid outbound faxing solution on the market.
How to start using ScanWritr's mobile fax?
To start using ScanWritr's mobile faxing service you will obviously need the app, which is available for Android, iOS, Windows Phone and BlackBerry. Then all you need to do is to register your free Vanaia account and to buy the desired fax token balance.
Once in the app, simply login with your Vanaia account and you are technically ready to fax. The only thing you need is a document, which you can import from an e-mail, cloud or phone or scan it from a physical form from within the app.
Even though the process is pretty much self-explanatory, you can also check out a detailed how-to article on the topic of faxing.
Pricing
ScanWritr's mobile faxing service uses a prepaid balance model of Fax Tokens. A single fax token costs $0.99, but you may also want to buy them in bulk of 5, 10, 20, 50 or 100, which brings the overall price per token down. For the full prices see the picture below.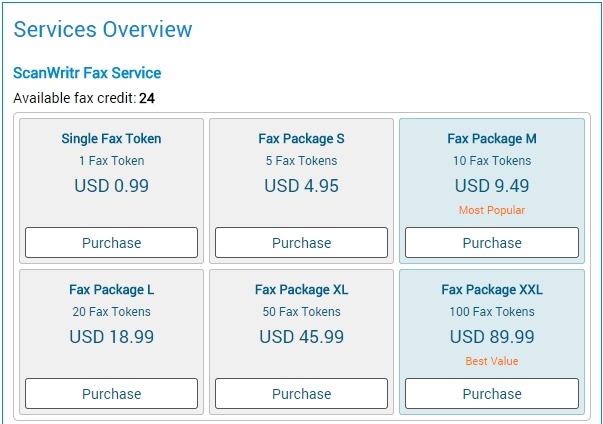 1 fax token equals 1 page sent to USA, Canada, Mexico, EU, Australia, New Zealand, parts of South America, Asia and Africa. Some other countries and territories with higher local tariffs require more than 1 token per page see the full price list (pdf file).
Ready, set, fax!
There you have it – everything you need to prepare yourself to start faxing with your smartphone or tablet is right in front of you. All you need to do now is take 5 minutes to download ScanWritr, register your free Vanaia account and make your first purchase.
Oh yeah, did we mention a special deal? Enter the coupon code "FIRSTTIMER" and get 50% off your first purchase (applies for credit card payments only).
UPDATE: Are you a Windows 10 user? We've just published a brand new faxing software for Windows 10 – Fax Out – which you can use with your existing Vanaia account.