A scanner app is pretty much an essential piece of software for your Android smartphone. Selecting the right one however, might prove to be more difficult than it sounds. To make your choice easier, we will review them feature by feature in the following weeks. Ready? Let's go!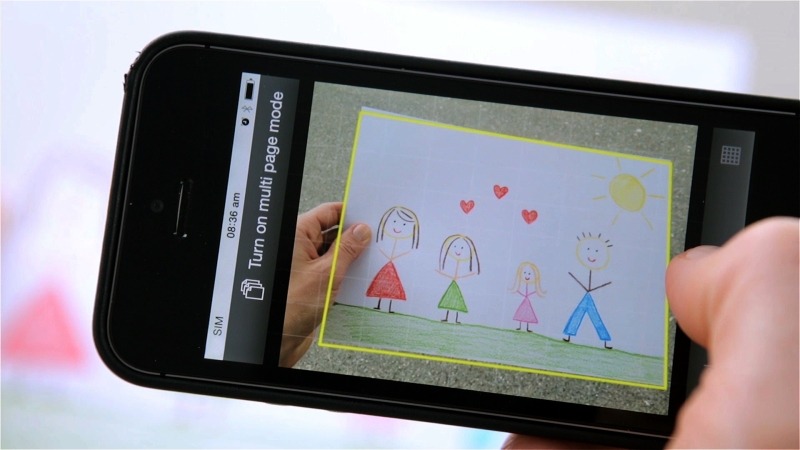 Why Auto Crop?
If we have to choose one crucial feature that any scanner app should have, an auto crop would be it. Without it you might be better off snapping regular photos without any additional software. A good auto crop (also known as 'paper detection', 'edge detection' etc.) might on the other hand save you a lot of time and energy digitizing your documents.
To find the best auto cropping scanner app we gave four selected scanner apps the task of scanning a single piece of A4 paper document, using the same mobile device (Samsung Galaxy S4). We were interested in how quickly the apps could auto crop (40 % of the final grade), how accurate they were (50 % of the final grade) and how many extra cropping features they offer (10 % of the final grade).
Speed
Here we measured how much time it takes to figure out where the edges of the scanned documents were after pressing the shutter button. We repeated the test five times with each of the selected apps and selected the best result.
Results:
1. TinyScan (5.1 s)
2. ScanWritr (5.2 s)
3. My Scans (5.6 s)
4. CamScanner (5.7 s)
Accuracy
To determine which app has the most accurate auto crop, we first exported the auto cropped documents without making any manual adjustments. Finally we compared the results side by side, focusing on the amount of unwanted background in the frame.
Results:
1. CamScanner (unwanted background visible in the bottom and right side)
2. ScanWritr (unwanted background visible on the top and the right side)
3. Tiny Scan (unwanted background visible on top and on the left side)
4. My Scans (a frame of unwanted background around the whole document)
Extras
We define extras as features which can help to increase accuracy of scanning, the speed or both. We focused solely on the pre-processing stage.
Results:
1. CamScanner (multipage scanning, wireframe option, flash control, resolution control, shutter sound control, equalizer)
2. ScanWritr (multipage scanning, two different wireframe options, zoom, flash control, real time auto crop)
3. My Scans (multipage scanning, auto flash, delete scan option)
4. Tiny Scan (flash control)
Which Android scanner app has the best auto crop?
According to our test, the final results are as follows:
Finishing 4th it is the MyScans' auto crop. Although not bad, its biggest flaw is the lack of accuracy.
On the 3rd place we have Tiny Scan. While this app has a fast and relatively accurate auto crop, it offers considerably less additional features than its opponents.
Just 0.1 point ahead, we can find the CamScanner's auto crop. It lacks the speed to be considered the best, but otherwise offers good accuracy and the most extras.
It is a close call, but it seems that the best auto crop belongs to… ScanWritr! While not winning in any single category, its auto crop is overall sufficiently fast, accurate and offers a lot of extras.
Disclaimer: While we obviously do have our horse in this race, we nevertheless want to be as objective as possible. We encourage everyone to try the apps for themselves.
Related articles